한국어 日本語
Part One The concepts of Messianic Transformational Leadership

3. The characteristics factors of Rev. Sun Myung Moon's leadership

12) Heavenly Parents'(God's) Heart

Rev. Sun Myung Moon taught, "Heavenly Parents(God) are not only glorious, but They also are miserable, and that it is easy to know glorious Heavenly Parents, but it is most difficult to know miserable Heavenly Parents because one has to go through miserable situations to get to know Heavenly Parents' Heart." (Malseum Seonjip, vol.143, p.334)

Also, Rev. Moon taught, "The world and history will be led not by the experts of theology or philosophy but by experts of Heavenly Parents' Heart." Throughout history, Jesus was the first man who understood the Heart of Heavenly Parents.

In order to become a historical true leader, he/she must be able to confront and go through all the difficulties of the past and present, making the best of any unfair situations. Therefore, Rev. Moon started from the slums to know Japan so that he could undergo all the historical sorrow and experience Heavenly Parents' Heart.

In brief, in order to experience Heavenly Parents' Heart, the true leader should

a. willingly suffer more than anyone else.

b. become a master of the suffering heart.

Therefore, a person who does not willingly go to the hell of the world with servanthood is not qualified as a true leader and he/she can never transform the world.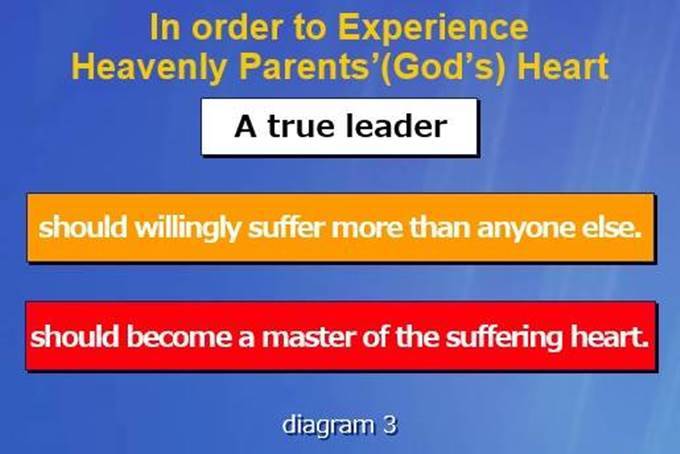 CheonIlGuk Project 'Messianic Transformational Leadership'(1)
CheonIlGuk Project 'Messianic Transformational Leadership'(2)
CheonIlGuk Project 'Messianic Transformational Leadership'(3)
CheonIlGuk Project 'Messianic Transformational Leadership'(4)
CheonIlGuk Project 'Messianic Transformational Leadership'(5)
CheonIlGuk Project 'Messianic Transformational Leadership'(6)
CheonIlGuk Project 'Messianic Transformational Leadership'(7)
CheonIlGuk Project 'Messianic Transformational Leadership'(8)
CheonIlGuk Project 'Messianic Transformational Leadership'(10)
CheonIlGuk Project 'Messianic Transformational Leadership'(11)
CheonIlGuk Project 'Messianic Transformational Leadership'(12)