한국어 日本語
Part One The concepts of Messianic Transformational Leadership

4. Rev. Sun Myung Moon's leadership is 'Messianic Transformation Leadership(MTL)'

I would like to define Rev. Sun Myung Moon's leadership as 'Messianic Transformation Leadership' which has several characteristics as follows:

First, he reached personal perfection by experiencing the Heart of Heavenly Parents(God) as if it were his own. So, he lived totally in accord with the Will of Heavenly Parents, experiencing complete union with Them.

Second, he controlled himself so that he could control others and the world.

Third, he became a master of the suffering heart and determined to take full responsibility for humanity with servanthood.

Fourth, he did willingly go to the hell of the world and controlled his environment.

Fifth, he loved his enemies and transformed them into his friends.

1) The core of MTL

The core concept of Rev. Moon's MTL is a 'Master of the Suffering Heart.' Rev. Moon experienced the Suffering Heart of Heavenly Parents by shedding blood, sweat and tears so that he could transform himself.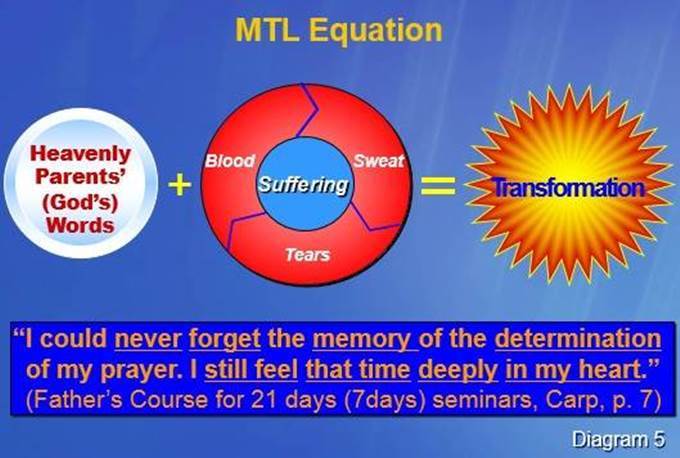 Why does the experiencing of the suffering heart of Heavenly Parents lead to transformation? Is there any relationship between transformation and blood, sweat and tears. To conclude, by experiencing Heavenly Parents' suffering Heart through blood, sweat and tears, we can feel Their Heart deeply in our bodies, souls and hearts, never forget His Words and determine to follow His Will. Therefore, only when experiencing Heavenly Parents' suffering Heart behind Their Words, we can transform ourselves and become the incarnation of Their Words. (Father's Course for 21 days (7days) seminars, Carp, p. 7)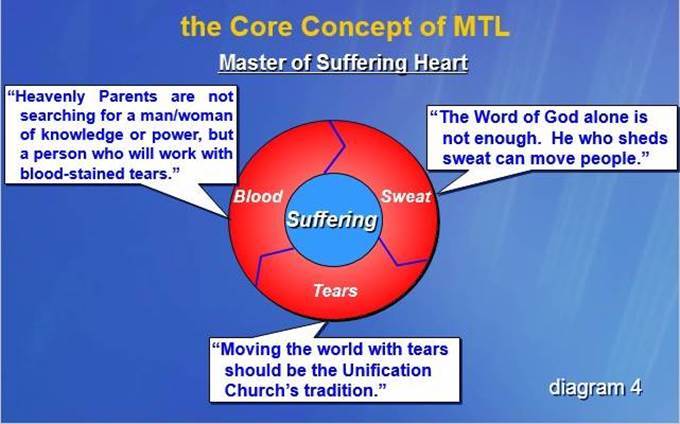 CheonIlGuk Project 'Messianic Transformational Leadership'(1)
CheonIlGuk Project 'Messianic Transformational Leadership'(2)
CheonIlGuk Project 'Messianic Transformational Leadership'(3)
CheonIlGuk Project 'Messianic Transformational Leadership'(4)
CheonIlGuk Project 'Messianic Transformational Leadership'(5)
CheonIlGuk Project 'Messianic Transformational Leadership'(6)
CheonIlGuk Project 'Messianic Transformational Leadership'(7)
CheonIlGuk Project 'Messianic Transformational Leadership'(8)
CheonIlGuk Project 'Messianic Transformational Leadership'(9)
CheonIlGuk Project 'Messianic Transformational Leadership'(11)
CheonIlGuk Project 'Messianic Transformational Leadership'(12)