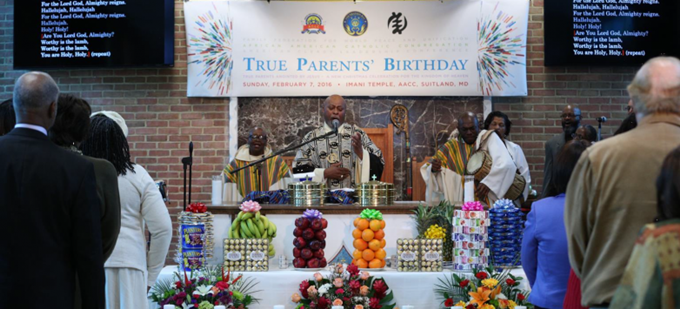 한국어 日本語
The Imani Temple, a Christian church in Maryland, celebrated True Parents' Birthday on February 7. Rev. George Augustus Stallings refered to as "the first celebration of True Parents' Birthday as Christmas in a Christian Church." He gave the sermon.

"God's original plan was that man and woman would the visible, the tangible, substantial manifestation of God on earth," he said. "Why am I such a true son of what we call True Parents? It's because they are teaching principles, spiritual principles, that I know will change this world, such as fidelity, living for the sake of others, loving your enemy, and working for a world of true and lasting peace. The divinity is within our reach; it's in us, but it needs to be perfected. Until it is perfected, we cannot do the things that only God can do. If you live in the rhythm of the God within, you can do the things only God can do. When I'm in the rhythm, all things are possible, but when I'm out of sync nothing prospers. We don't want to trim back; we want to live the fast life in the fast lane. We get caught up in all of the physical, material things that are supposed to be the sign of our worth or value when what is most important is what's on the inside."

George Augustus Stallings is the founder of the Imani Temple African-American Catholic Congregation, an African-American-led form of Catholicism.


【True Peace Road 2015】
The two tablets of stone and True Parents
"My testimony to True Mother" ㅡYeon Ah Moonㅡ
Summary of Sun Jin Moon's Inaugural Address, FFWPU International President
【Coincidence】Year of Blue Sheep 2015 & Blue Dress